BMA selects LSM SafetyViewDetect® Camera Viewing / Proximity Detection Solutions for Dump Truck Fleet
Published Monday 3 Apr, 2006 by Peter Woodford
In 2006- LSM Team were provided with a challenge to install our LSM SafetyViewDetect® Camera Viewing / Proximity Detection solutions to Dump Trucks at BMA- Goonyella mine site.
BMA Goonyella Mine Site selected LSM SafetyViewDetect® Camera / Proximity Detection to provide a virtual 360 Deg - Surround View enhanced viewing around the peripheral of the vehicles, for Front, LSide / RHSide and Rear Views.
LSM SafetyViewDetect® Camera / Proximity Detection System Cameras are flexible with multiple viewing angles.
All components of the Cameras are also designed for robustness and easily met the requirements for enhanced viewing in all arduous operating conditions of the mining industry / vehicles.
Unlike others systems, the SafetyViewDetect® Camera systems are designed specifically for constant usage, with 10 years/ 20, 000 operating hour design service life.
Other specific features of the SafetyViewDetect® Camera / Proximity Detection system configurations are:
Compact Colour Cameras are waterproof (25 metres), pressurised (0.4 bar), nitrogen filled. They are a single piece camera with sealed connections. Contrarily, cameras that are two piece or have glands for cable entries will suffer ingress of moisture overtime, especially as a result of thermal expansion / contraction.
Lens are seven times harder than normal glass, are scratch-proof, and heated against frost and condensation (+15 degC).
SLR (Sun - Light Resistant) lens are photo-chromatic to reduce glare.
Vibration - proof to 30g and are contained with an anodised aluminium housing (Stainless Steel housing option also available) for long service life and high corrosion resistance.
Lens are chemically smoothen so dust will not adhere - this provides constant clear viewing as well as saves an enormous time in requirements for cleaning of the lens, especially when in operation.
Multiple views are provided from 17 deg to 130 deg armatures.
Compact Colour LCD Monitors have very high resolution, are anti- glare and have an integrated sun- cover.
The LCD has many functions such as automatic control and individual settings (Mirror, Invert, Contact, Brightness, colour, etc) for upto 3 cameras.
It also is protected against EMS transmissions to military requirements.
Weight is only 1.2 kg so is safer than other LCD's / CRT Monitors in case of collision.
The connection cable and stainless steel screwed connectors are made of high strength materials and are waterproof / chemically resistant against most petroleum liquids and degreasers.
LSM are so confident of the SafetyViewDetect® Camera / Proximity Detection systems that we provide 3 year warranties.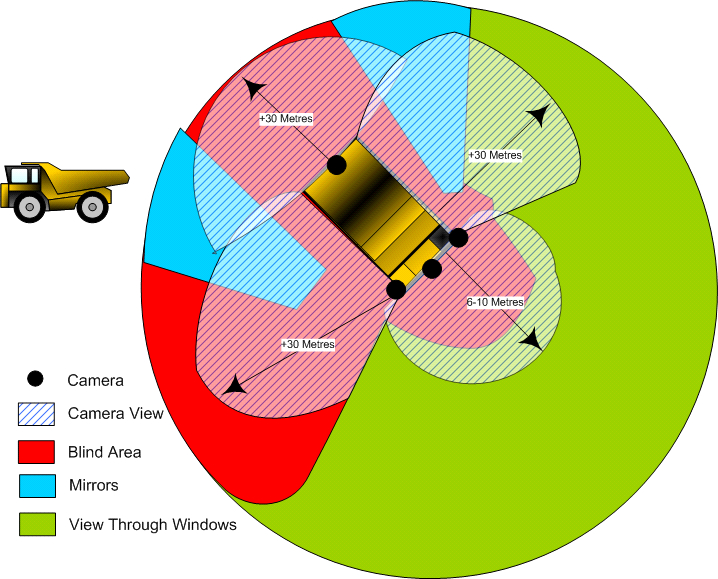 CAT 797 Dump Truck Blind Spots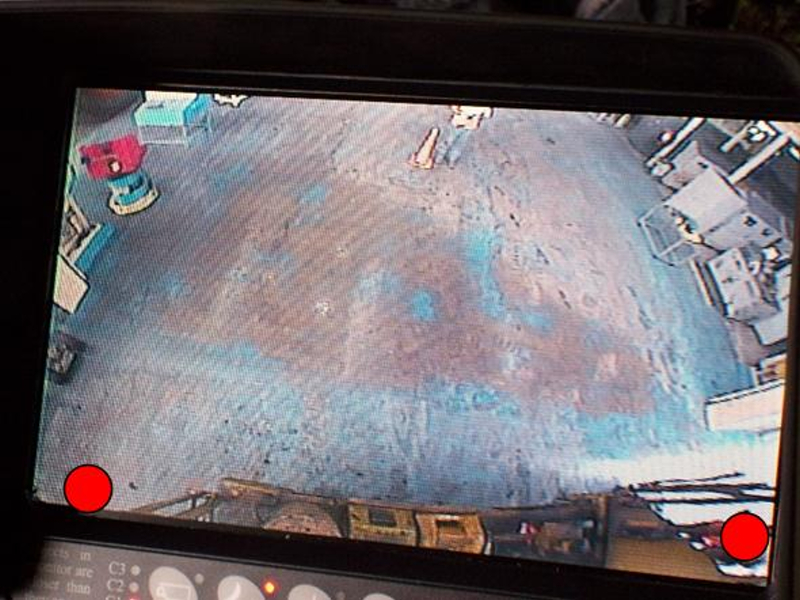 Front View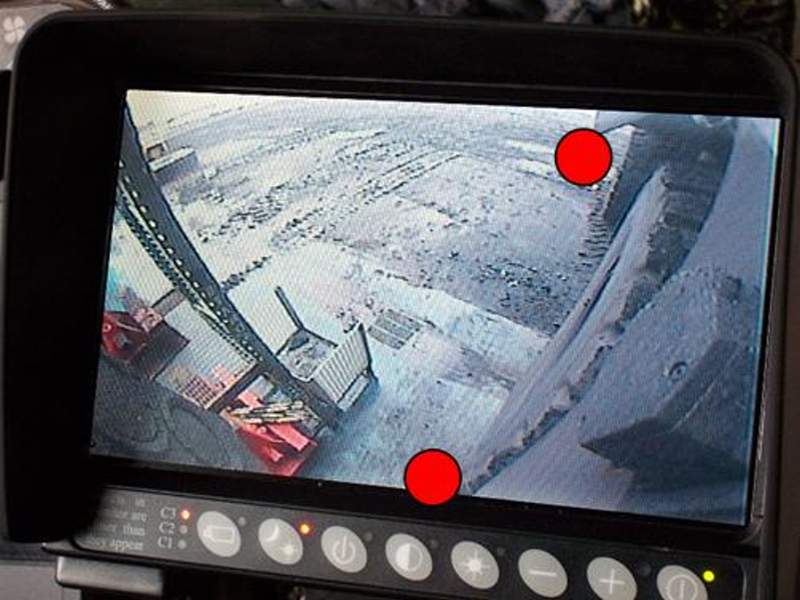 RHSide View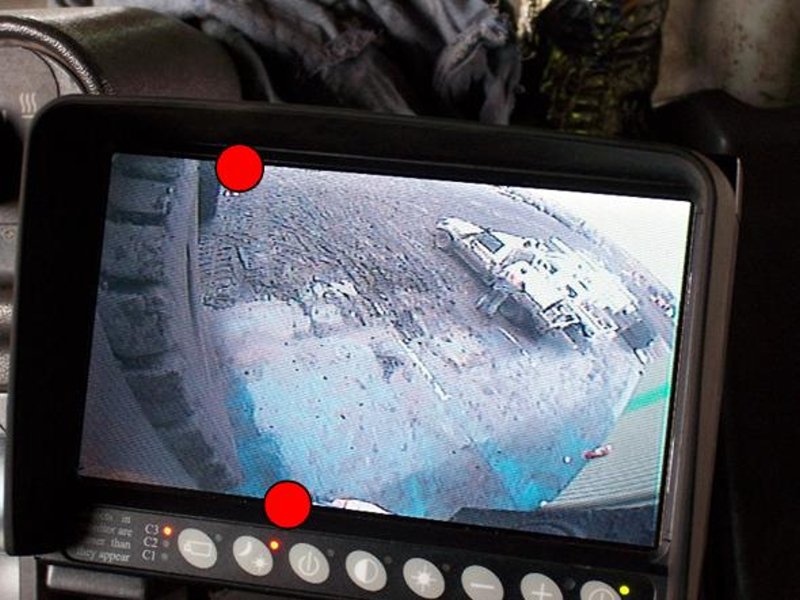 LHSide View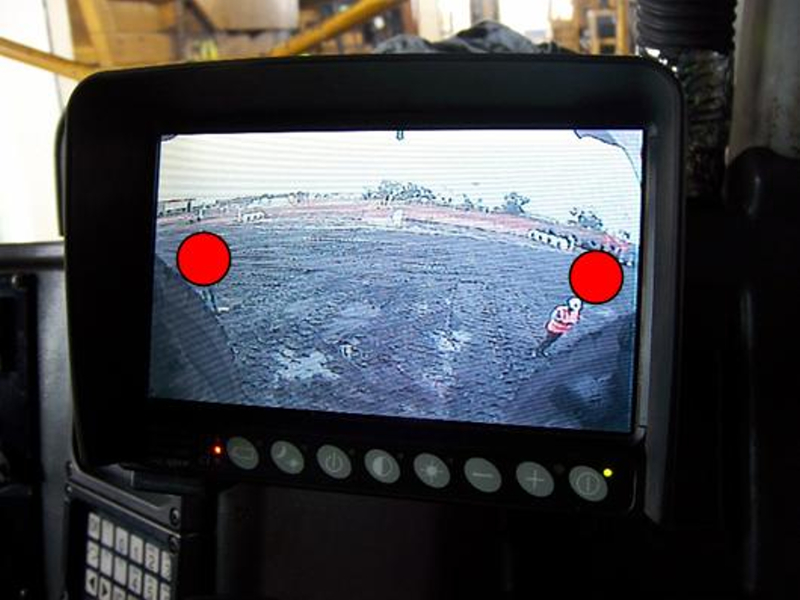 Rear View

PRODUCT DATA SHEETS- EDITORIALS