Department of Mines & Petroleum releases new Tyre Safety Guidelines- Tyre Monitoring Systems
Published Thursday 10 Sep, 2015 by Peter Woodford
An updated Guideline on Tyre Safety for Earth-moving Machinery (and other rubber mounted vehicles) has been released by the Department of Mines and Petroleum's Resources Safety Division. Mines Safety Director Andrew Chaplyn said the guideline highlighted the risks of working with tyres Off-the-road (OTR) in the mining industry. They complete news article can be viewed on the DMP Safety Resources Web Site at this link.
"There have been a number of fatalities in the mining industry directly related to not understanding or addressing the risks associated with such tyres," Mr Chaplyn said."They are dangerous not only because of their size and mass, but also because of the pressures and combustible materials involved."
Earlier this year, one worker died and another was seriously injured after a tyre exploded during work at a Queensland coal mine.
"These tragedies are a reminder of the importance of tyre safety and the potential for fatal consequences when that safety is compromised," Mr Chaplyn said. The guideline describes common hazards when working with tyres, rims, wheels and assemblies on heavy mining equipment.
"It provides guidance on safe systems of work in a mining environment, while allowing for flexibility in both process and documentation," Mr Chaplyn said.
Some highlights in the New Guidelines are:
Application: Although aimed at Off-the-road tyres (as defined in Australian Standard AS 4457) for earth-moving machinery, many of the principles may be extended to other rubber-tyred vehicles on mining operations, such as light vehicles and highway-type trucks.
Heat and Fire (section 3.7): The use of thermal imaging or remote Tyre Pressure Monitoring (e.g. tyre pressure/temperature monitoring systems or TMSystems) avoids the need for personnel to enter the danger zone of a suspected overheated tyre to conduct an initial assessment.
Pyrolysis (section 3.8): using a TMSystems to monitor tyre pressure and temperature in real-time to detect extreme air pressure or temperature anomalies.
Factors to consider when selecting tyres (section 4.2): It is most important to assess the site conditions so the optimum tyre design parameters (e.g. tyre construction, tread design, rubber compound, TKPH rating) are selected. Such site assessments are usually achieved by: gathering data through monitoring and data logging technologies mounted on mobile plant — such technologies can monitor and record tyre pressure, temperature, TKPH, load, speed and other parameters,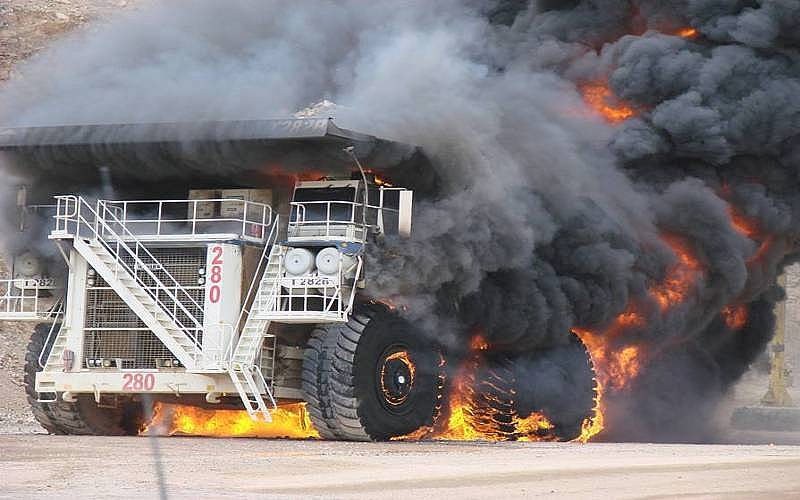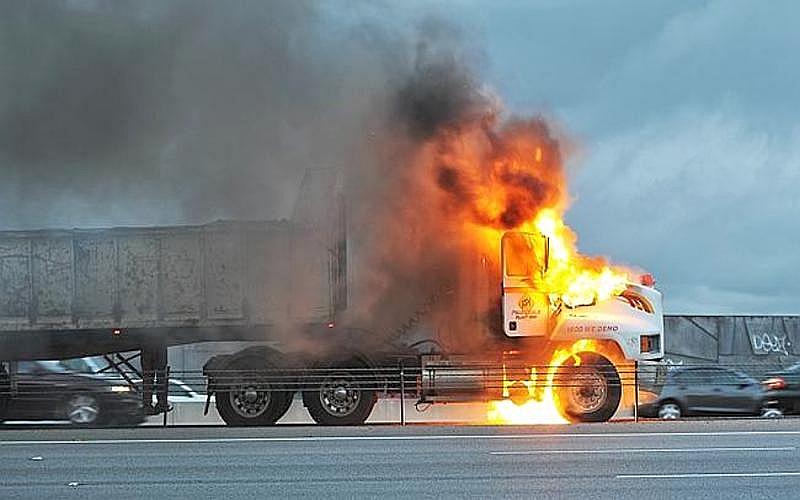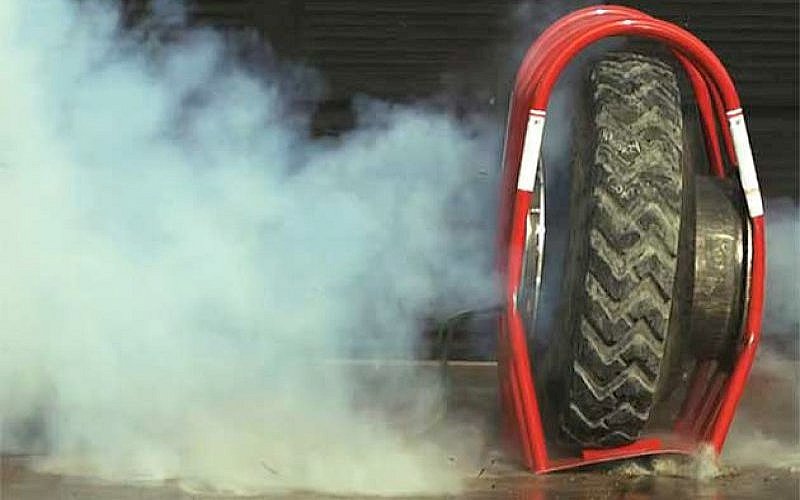 Monitoring Tyre pressure (section 9.4): While Australian Standard AS 4477.2 does not require any minimum inspection interval for tyre pressure monitoring, it does state that inspections should be undertaken periodically according to the manufacturer's recommendations. Each site should determine an appropriate frequency of checking based on a risk assessment, including consultation with the manufacturer. All tyre pressure data should be recorded. When a TMSystem is installed and functioning correctly, the requirement for periodic manual inspection of tyre pressure, as well as checking for faults, is reduced. However, the maintenance program should include regular checking of each wheel position to enable external visual inspection of the tyre, rim and fasteners Pressures should be systematically recorded so that leaking or damaged tyres can be identified and changed before they fail catastrophically.
The Practice of "tyre tapping": is an inadequate and inappropriate method of pressure monitoring, and is not regarded as part of a safe system of work.
Tyre Fires (section 10.12) Prevention of Tyre Fires: recommended tyre pressure is maintained (e.g. use a TMSystems that incorporates tyre temperature monitoring and alarms).