ISO 23875 Mining Operator Cab Air Quality Standard and Performance Requirements
Published Monday 3 May, 2021 by Peter Woodford
ISO 23875 Standardises Mining Cabin Air Quality Control System Requirements.- For more nearly 2 x decades, LSM Technologies has provided a "loud voice" advocating and contributing to the evolution of the ISO 23875 and other OH&S Standards. Read our Editorial: STW 2020 Oct- ISO 23875- Dust exposure mitigation controls for fixed and mobile plant cabins.
For more nearly 2 x decades, LSM Technologies has provided a "loud voice" advocating and contributing to the evolution of the ISO 23875 and other OH&S Standards.
The implementation of the ISO 2387 will provide:
Maximise protection of operators / occupants of enclosed fixed and mobile plant cabins from harmful dust particulate and fibre.
Increased operator comfort, reduce fatigue and increase concentration.
Extend HVAC Service life and reliability / efficiency.
Enhance Production and Machine availability.
Provide significant cost- downs in reduced maintenance.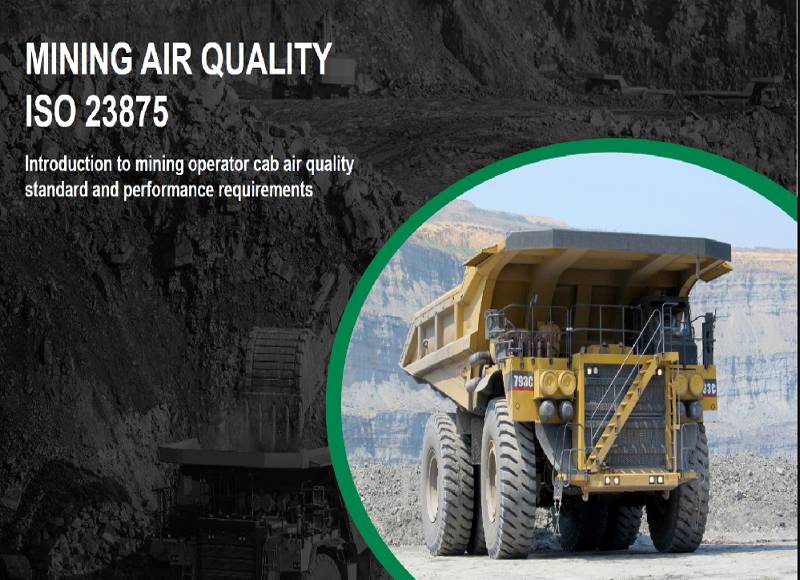 The standard creates a consistent approach to designing, testing, operating and maintaining operator enclosures with respect to air quality in the mining industry.
What is the ISO 23875?
Adoption of the practices outlined in the standard protect personnel inside operator enclosures from harmful respirable particulates / fibre, through:Maintaining safe levels of CO2.
Conducting routine performance testing of air quality control systems to maintain compliance, including testing. Cabin pressure, operating CO2 concentration, and Fresh and Recirculation Filtration effectiveness.
Performing preventative maintenance throughout the life cycle of the Cabin.

Life-cycle standard creates consistency across the life of a machine
A life-cycle standard follows a machine from the date that it is certified compliant - either at the factory or upon successful retro-fitting- ensuring compliant design, testing, and maintenance over time.

The standard promotes operational integration, bringing stakeholders together from different functional areas and seniority levels to focus on operator air quality and maintaining compliance

The benefits of ISO 23875- Health, Safety, and Trade Benefits
Reduces the incidences of lower-lung chronic health conditions of machine operators in the work force
Establishes requirements that can be consistently monitored, tested, and managed by industrial hygienists
Improves employee retention and recruiting by addressing a key environmental hazard, creating a safer workplace
Lowers equipment maintenance costs; HVAC system will run longer and more effectively with the reduction of particulate building up on the evaporator core.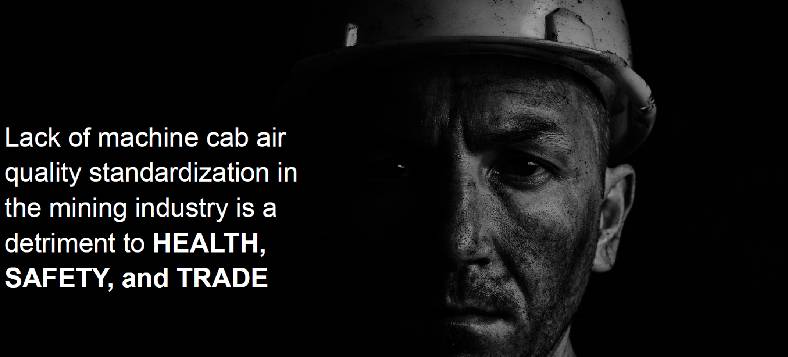 Defines maintenance practices and service intervals to maintain required Cabin performance
Creates consistent global standard and approach to Cabin air control systems, reducing impacts of regional regulations and multiple iterations of machines, platforms, and parts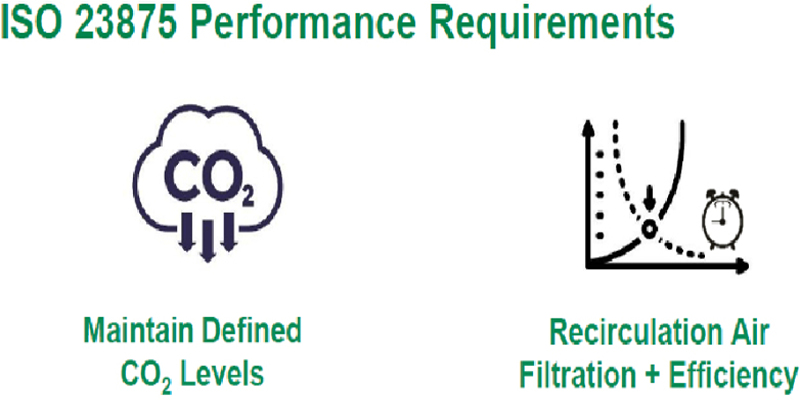 Standardising Cabin Air Quality- ISO 23875 Performance Requirements
The goal of an air quality control system is to provide correct Filtration and Pressurisation of an enclosed cabin to protect the Operator / Occupants from:
Harmful Particulates / Fibre entering from the outside of the Cabin.
Harmful Contaminants that may have entered the Cabin (door opening, boots, clothing, etc).
Exposure to excessive Co2.
Provide a monitoring device to warn of incorrect levels of Co2 and Cabin Pressurisation.

Support of ISO 23875 recommendations gaining traction around the world
ISO TC-82 Mining, Working Group 9 currently piloting elements of ISO 23875.
Bringing OEMs, industrial health, mining companies, regulators, service and maintenance functions together to generate support and adoption.
Additional industries revising standards to gain alignment with ISO 23875 (SAE, ANSI, EN) Gaining Acceptance from Stakeholders.