Joy Mining- Stamler Poducts selects LSM Technologies ACL System Design
Published Wednesday 12 Sep, 2007 by Peter Woodford
LSM Technologies have established a close relationship with Joy Mining's- Stamler Australasia Division with the supply of their Vogel Automatic Lubrication Systems and Technical Services.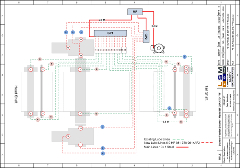 LSM Technologies, as a preferred supplier has been providing Technical Design, Installation and Support Services for our specialised Automatic Centralised Lubrication (ACL) Systems.
LSM Technologies established a close relationship with Stamler / Oldenburg Australasia Pty Ltd since 2004 / 2005. In 2006 the Stamler Product range for Feeder Breakers / MVT Sizers was acquired by Joy Mining Machinery- a well known and established OEM of Underground and Aboveground Mining Equipment / Vehicles.
To date, LSM Technologies has designed and installed approximately 40 x ACL Systems for Stamler Sizers / Feeder Breakers operating on mine sites in New Caledonia, Indonesia and Australia- without a single failure in nearly 4 years.
Addition features provided by LSM are:
KFGS High Pressure Pump Unit with Integrated Controller with full monitoring functions.
Quick Fill / Filter Assembly to restrict ingress of contamination into the lubricant.
Weather- proof enclosed Transformer AC to DC 24 volts, so as to enhance safety during maintenance.
Strobe warning light for Low Lubricant and System Failure Warning.
Complete Installation and Commissioning of the System to strict QA.
The ACL System is a complete package installed and commissioned by LSM Technologies providing trouble- free operation, extended seal / bearing service life and of course without associated productivity loss for their end- users.
LSM Technologies are proud to be a preferred supplier to Joy Mining Machinery Stamler Products and we look forward to enjoying many more years of association.
Click here for Joy Mining Web Site and for the Stamler Products