Further to our news article introducing the XLR™ to Australia, we are offering selected customers:
A XLR® System FOC (free- of- charge) fully engineered, installed and commissioned by LSM Technologies Engineering.
Just download one of the questionnaires and complete / return to LSM Technologies tech@lsmtechnologies.com.au (or fax to +61 7 3725 8199).
or please contact us.
Want to know how the XLR™ can provide you with enormous costs- downs?
Download our Technical PDSheet below and read about the XLR™ Powered Precleaner / Filtration System and proven technology with some indicative "real world" stories / case studies.
Review our XLR™ Powered Precleaner / Filtration System section.
Also see our XLR™ video clips to see how it works in real- time applications
Or please Contact us.
With increased demands upon Engines, it is critical that Engine Air Intake System technology provide better protection by removing even smaller contaminants from entering the Engine whilst extending Filter Service life! So today- a new evolution- the worlds first and only XLR® (Extra Low Restriction) Engine Air In- take Powered Precleaner and Pre- Filtration Technology!
The XLR® is in massive demand / use overseas and is really proving itself to revolutionising Engine Air Intake Filtration / Protection and Exhaust Components (Catalytic Converters / Regen Systems, etc).
High efficiency Powered Precleaner that removes more than 90+% of the dust BEFORE it reaches the Pre- Filter.
High efficiency Radial Seal Filters that removes 99.99% of ISO Fine Test Dust.
Patented self-cleaning Filter drops dirt continuously, which is then ejected from the XLR Filter housing back into the Environment.
Upto 1,000 hours of XLR Filter service life even in the most severe applications / operating environments.
Virtually never replace the OEM Air- intake Filter.
Related Articles
06-Dec-17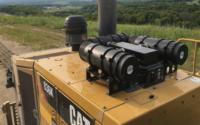 LSM Technologies has released other World First and the latest / ultimate in Engine Air Intake Filtration with the XLR™ Powered Precleaner / Filtration System. The XLR&trad...
---