Just a special thanks for all those that came and visited us at the recent AIMEX 2017- Asia Pacific International Mining Exhibition. Of particular interest was our "live" Demo Cabin where visitors were able to view the many features and benefits of some of our specialised OH&S Technology Solutions and especially the worlds first- FSM Fleet Safety Management Web Based / Telemetry System.
See you again in another 2 years at the AIMEX 2019 Event.
If you need more information then please Contact us. Also congratulations to the lucky winner of our 4.5 litre Chivas Regal Prize.
Related Articles
01-Sep-17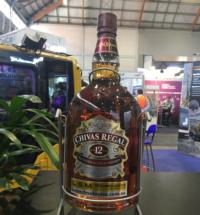 Well we had a great time at the AIMEX 2017 and would like to thank all those that entered into our 4.5 Litre Chivas Regal Lottery (Permit # LPTS/17/17250) at our Stand. And we of course have a&nb...
---
14-Aug-17

Due to the enormous demand both within Australia and Internationally for LSM Technologies Specialised Product Technology Solutions we will be Exhibiting at the AIMEX Asia Pacific's Inter...
---