After 46 years, Bruce found RESPA for his Caravan and says "you get what you pay for"
Published Sunday 17 Oct, 2021 by Kelvin Nicholson
Bruce has had over 46 years of serious off- road Caravan driving and has investigated a lot of dust proofing ideas ranging from Vent Covers to Scupper vents and Blowers whilst noting virtually no improvement in dust reduction. And then Bruce found RESPA® and as he says- "it works and works well- you get what you pay for!".
Bruce writes to LSM Technologies and shares his experiences with various other dust elimination devices and how RESPA® stacked up against them all.
"Scuppers were marginally effective at speeds above 60km/ h but in slower 4WD conditions they lacked the ability to provide positive pressure resulting in dust ingress. Most Bilge Blowers that I looked at were not rated for continuous operation and required ducting, joiners and filters, which added weight to the van and tested my patience working out an effective and neat installation."
A few years ago I heard about the RESPA filter and fully investigated cost, weight, effectiveness and installation. It all sounded too good to be true, and I was sceptical. I decided not to purchase. Bloody stupid!"
"Shortly after, on an extended trip in Central Australia, we could no longer cope with the amount of dust entering each day, covering bedding, table, benches and floor. I was given an ultimatum by the boss to do something and quickly.
A RESPA unit was purchased from LSM. This was a big decision as they are not cheap, and I had tried so many things that had not really worked at all. The whole unit was well-made, strong and contained the motor, fan and filter in one compact unit, along with mounting components.
I removed the Muller Vent above the Kedron's door and mounted the fitting plate and unit without further modification. The vent outlet in the ceiling was enlarged, and I installed a marine inspection port attached to the ceiling to provide RESPA entry to the van. Wiring was run through to front of the van with connection to a switch on the dashboard. A white LED was fitted to the van front to indicate RESPA is on (visible from driver seat).
After last trip, 1000 kms of rough outback tracks including thick bull dust we are amazed at how effective the system is. Some dust still gets in under fridge cupboard but overall there is an estimated 98% reduction in dust ingress to the Kedron resulting in very happy wife.
RESPA works just as well at walking pace on low range tracks as it does at 80 km/ h on the Birdsville Track. Effectiveness is not dependent on vehicle speed.
The filter self cleans very effectively and the motor unit has a heavy-duty cycle which can run all day with absolute reliability."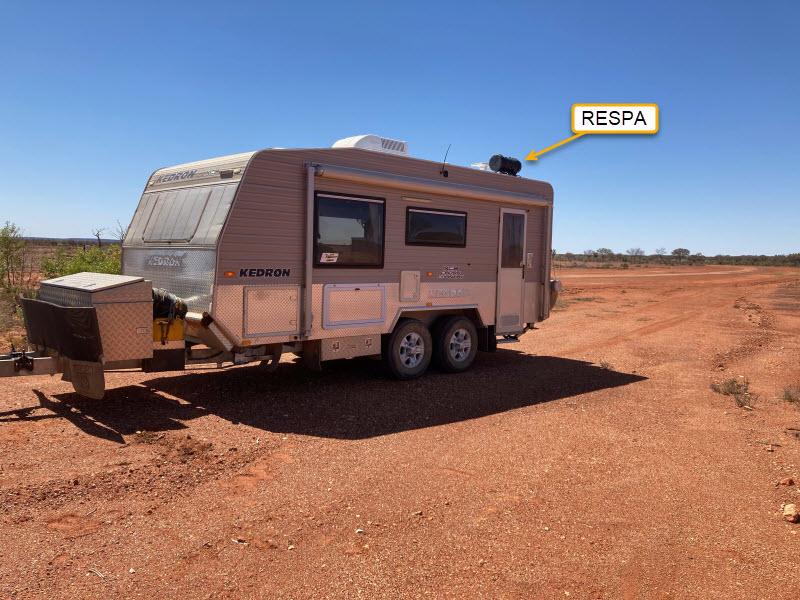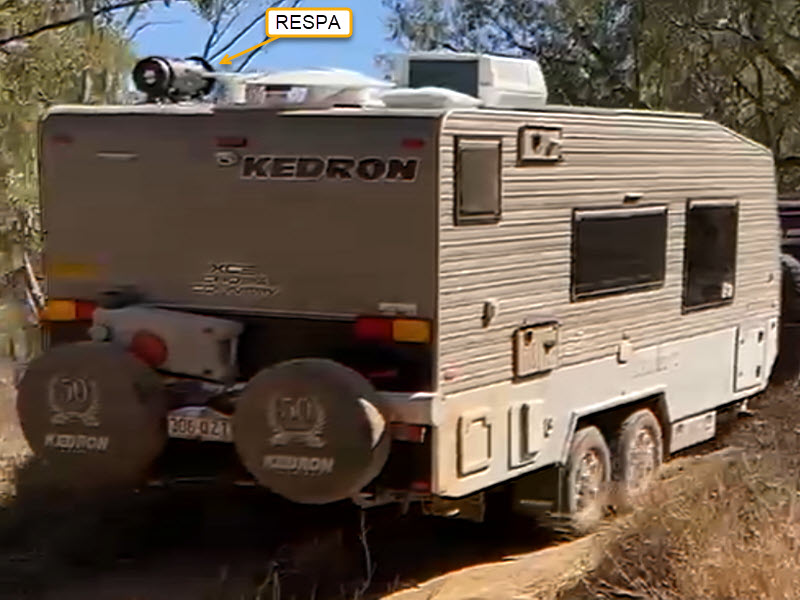 "We turn RESPA on roughly 5 minutes before running on dirt to allow positive build up of pressure inside.
Some notes:: Nothing is perfect, so:
I still block all door vents with gas off.
Fridge vents are covered with self fabricated aluminium covers housing dust filters.
Hot water system has fabricated cover.
I regularly check around hose inlets / outlets etc in floor and silicone seal.
I travel with plugs in shower and sinks.
The RESPA does not sit as high as our roof mounted air conditioner but consider height of system in relation to shed storage at home".
And Bruce's final comment is- "RESPA works and works well. You get what you pay for".