LSM Technologies is proud to announce that we have added Vision Techniques- Vehicle Safety Solution to our current portfolio of OH&S Solutions to help prevent accidents, save you money and motivate best driver practice, bringing you peace of mind and the ultimate protection of the Public and your Human / Equipment Assets.
Vision Techniques is one of the UK's leading manufacturers for >30 years of patented specialised Vehicle Safety Mitigation Controls to reduce the risk of Collision, Vehicle Theft, Vehicle Runaways / Rollaways, Operator RFID Control Security and maximisation of Fleet Efficiency.
VT is the predominant provider of Safety Solution Technologies to the largest UK Operators of Waste Collection / Street Sweepers / Municipal Councils / Road Construction and Quarrying Industries.
VT Steven Hurd (Sales Director) and Dave Smith (Technical / Operations Manger) visiting us and spent nearly 2 weeks providing the LSM Team and special guest training, product orientation and completing demo installations.
VT unique and specialised technologies expands our current portfolio of relevant OH&S Technologies and adds such Safety Engineering Controls as:
Banksman: Reversing Auto Braking Radar (AEB) System.
Brake Safe: Anti- Rollaway / Run Away System.
IDent Drive Stop: utilised for Machine Isolation / Anti- theft / Handbrake Failsafe System
IDent RFID Controls: unauthorised Control Operation system- eg Brake release / Compacter Operation, etc.
Stop Safe: Controlled Stop Braking System.
And many other specialised Vehicle Safety System Solution.
TurnSafe: Cyclist / Pedestrian Detection and Alarm Systems.
The VT Solutions
We have released our web site section with the links below to the respective VT Product Technologies (and PDSheets) and also two very impressive Case Histories / Video Testimonials from FloGas and Keir Group:
For more information please Contact us.
Related Articles
01-Apr-19

A-One+ Integrated Highway Services is a joint venture owned equally by Jacobs, Colas and Costain. A-One+ Integrated Highway Services have added a testimonial on their web ...
---
04-Mar-19

CHEVRON Streetworks Division deals exclusively with traffic management in and around cities, towns and rural areas. Operating from 10 locations around the UK, their streetworks division provides...
---
25-Oct-18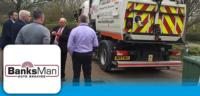 LSM Technologies have taken the initiative to provide Industry with an insight to available Vehicle Technology's that are proven to provide enhanced Safety, Equipment Damage ...
---
24-Sep-18

One of LSM Technologies premium customers, has generously provided one of their Street Sweeper's which is installed with many of our Vehicle Safety and other OH&S Technologies. ...
---
13-Aug-18

Come and see our Display Cabin fitted with the latest LSM Technologies OH&S and Productivity Solutions at the at LSM Technologies will be exhibiting our Specialised Product Techn...
---
20-Jul-18

Eurovia / Vinci is a world leader in Transport Construction and Urban development and their Surfacing and Supply chain partner Sims Milling are using the Banksman Auto Braking Radar (AEB)...
---
03-Apr-18

LSM Technologies has proven to be Australasia's leader >10 years in delivering their Cabin Pressuriser and Filtration Systems to best protect Cabins, Enclosures and&...
---